Coroplast lawn signs are an affordable advertising sign tool that is weather-proof and can be used indoors or outdoors. Coroplast is temporary in life-span compared to some other media but offers a light-weight, durable, waterproof, and cost-effective solution for many applications.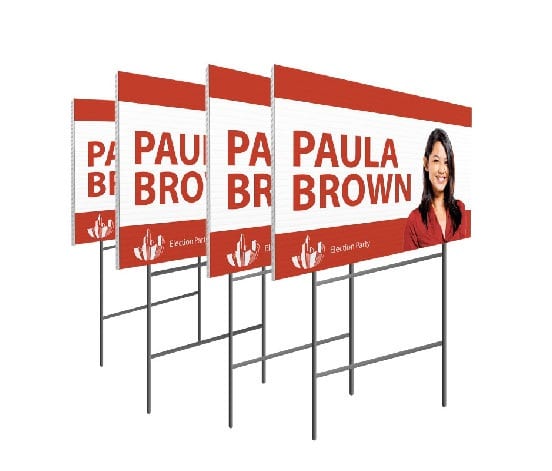 Standard sizes or any custom size available
Available in 4mm (most common), 6mm, 8mm, 10mm thickness
Can be used with h-stands as lawn signs
What Is Coroplast?
Coroplast is corrugated plastic that is available in different thicknesses. It consists of two pieces of flat plastic attached by hollow flutes that run between the flat surfaces. Visualize a piece of cardboard made entirely out of plastic.
Coroplast is suitable for both indoor and outdoor use. It is lightweight, waterproof, and easy to clean.
Coroplast Lawn Sign Design Resources
24″ x 18″ Coroplast Sign Template
24″ x 12″ Coroplast Sign Template

H-Stakes (Yard Stakes) For Coroplast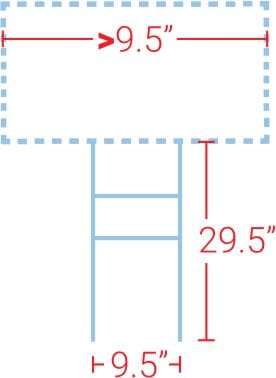 H stands are inserted into the vertical flutes of coroplast signs
at one end and inserted into the yard at the other end.
When ordering coroplast signs that you plan to use with H-stands, make sure you let us know. This ensures that the flutes in your signs will run vertically.
Product Inquiry Coroplast Lawn Signs
---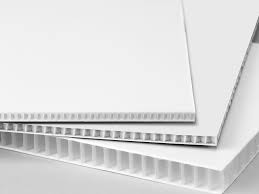 Custom Printed Coroplast Signs are great for:
Real estate agents
Lawn care services
Landscapers
Home repair companies
Political candidates
Home builders
Farmers' markets
Retail stores
Salons and barbershops
Parks and outdoor recreational areas
Golf courses
And more