Sign frames and a-frame signs are easy to set up, portable, and an excellent way to promote your business, products, services, and event. Most frames allow for easy changing of graphics using coroplast inserts making it easy to keep your message fresh and relevant and saving you money by reusing the same sign frame.
A-frame sandwich board signs are available in metal frames with coroplast inserts or heavier duty plywood construction
Many sign frames in various finishes and sizes available for any application
Most sign stands take inserts allowing you to easily change the message quickly and affordable
Portable options for easy storage and moving
Full colour graphics will attract attention
Outdoor and indoor sign stands
Sign Frame & A-Frame Design Resources
32″ wide x 24″ high A-Frame Template
24″ wide x 18″ high A-Frame Template
24″ wide x 36″ high A-Frame Template
24″ wide x 48″ high A-Frame Template
Contact us for other templates for sign frames.
If you are using directional arrows on your signs. Your file should be 2 pages with each arrow pointing in the opposite direction.
Most Commons Sign Stands & A-Frame Styles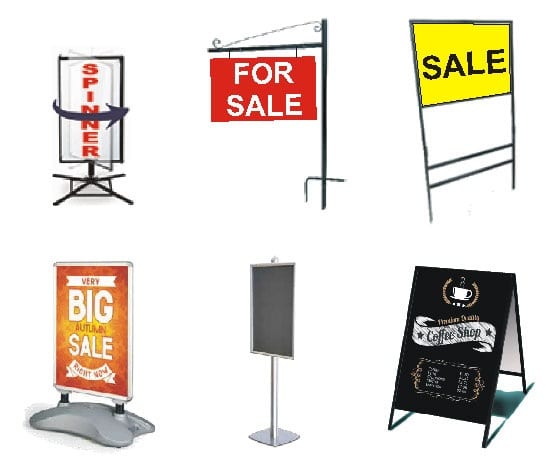 Ask us about other sizes and frame styles for your sign application. We can even create a custom solution for you if needed.
Sign Frame & A-Frame Best Practices
Take advantage fo the full-colour printing and include images and logos to attract more attention to your message. Often read in passing or from a distance keep the text to a minimum use bold headline to quickly convey your message to your audience.
Great for events to use as directional signage, indicate parking areas, or advertise specific areas.
Product Inquiry Sign Frames & A-Frames
---